Loving Venice While Stalking Guy Fieri
I spent April and May of this year traveling Europe on my own and loving it. It's June and I've arrived into Venice's Marco Polo airport to meet up with my brother and his fiance. We've planned to spend 2 weeks together traveling through Italy and Croatia. This is the first visit to Venice for all of us and we're excited to see whether the city matches its reputation.
From an Alilaguna ferry we catch our first glimpse of Venice by sea, and it's magnificent. It's exactly as seen in the movies, gorgeous Venetian buildings jutting against the blue waters of the Adriatic. Sitting in the back of the ferry, I can feel the goosebumps rise on my arms.
Getting off at Orto ferry stop, we walk towards the apartment we've rented in the north edge of town. We check in, dump our bags and immediately go out exploring. We only have two days in Venice and we want to make the most of it.
Outside our apartment, the canal street is lined with small restaurants and busy bistros. People were drinking and eating at small tables, sitting on the edge of the canal dangling their feet over the water or sitting on parked gondolas covered with wooden planks.
We were enchanted.
Ordering a small selection of  appetizers and drinks, we found ( made ) some space on one of the parked gondolas. We thoroughly enjoyed ourselves talking, laughing and taking in the ambiance of our surroundings.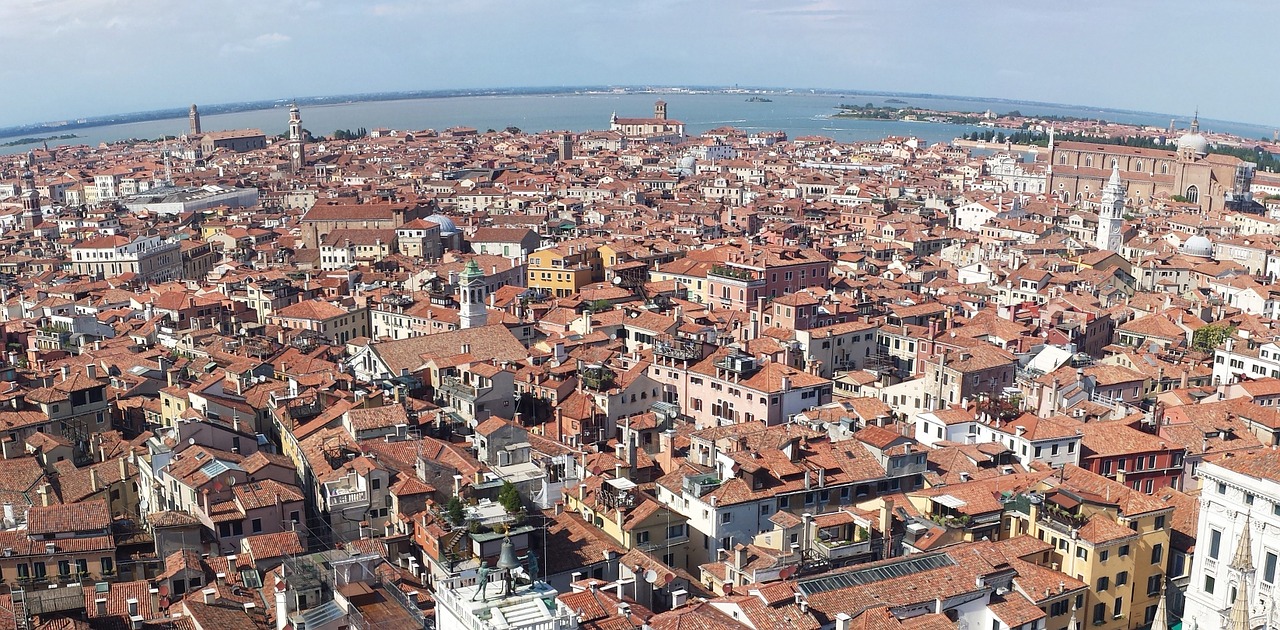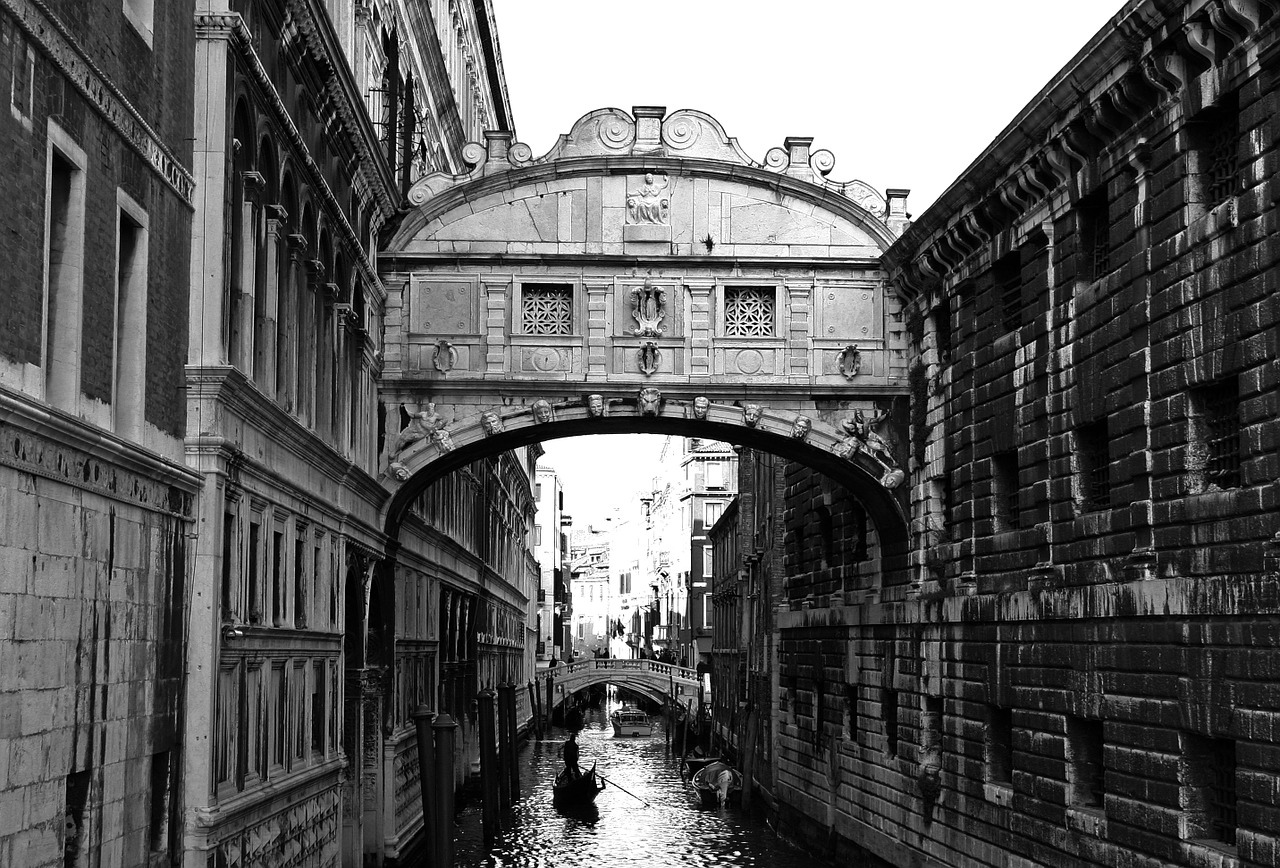 With our hunger satiated we make our way to Piazza San Marco. Walking into the Square for the first time is overwhelming. The square is huge and lined with arched hallways, housing cafes and coffee shops. We're surprised to find it mostly empty and we take full advantage of the situation.
This is the most visited site in Venice, and it's normally packed to the gills with hordes of tourists. Knowing this, we leisurely walk around visiting the space, listening to an outside band play and we admire St. Marks Cathedral's facade.
The exterior of St. Mark's is a work of art. There's so many beautiful details to take in, from its ornate arches to its statues and mosaics. We could've easily spent hours inspecting the outside of the Cathedral, to properly appreciate its glorious details, but we decide to venture in.
On entering the Cathedral our eyes immediately rise up to the domed ceilings. The hall shimmers from the reflections off the gold mosaic artwork that line the atrium, domes and walls.
An amazing fact, this Cathedral holds over 40,000 square feet of gold-backed mosaics crafted between the 12th and 17th centuries. We're stunned into silence, as we walk the lower hall trying to absorb what we're seeing.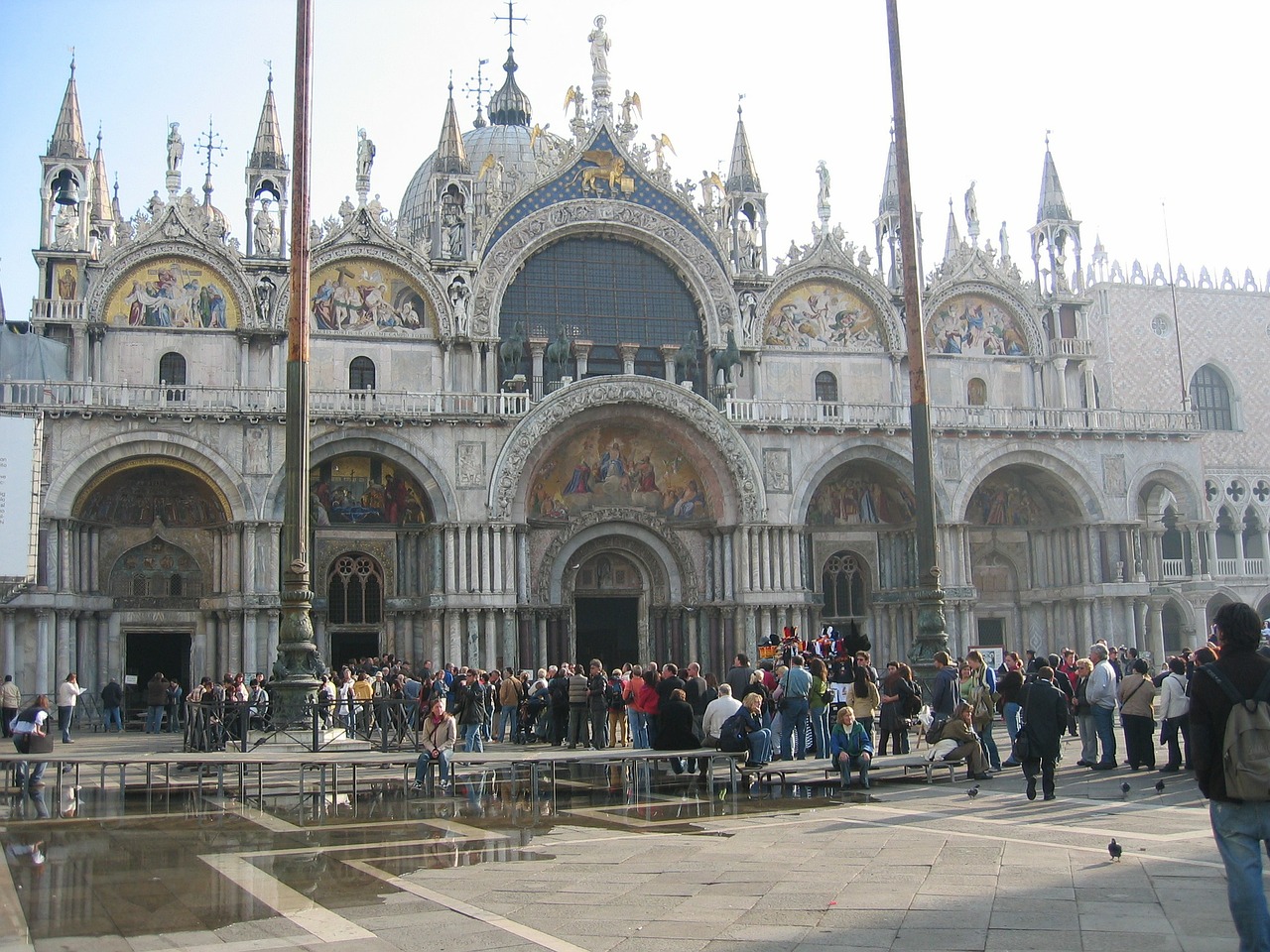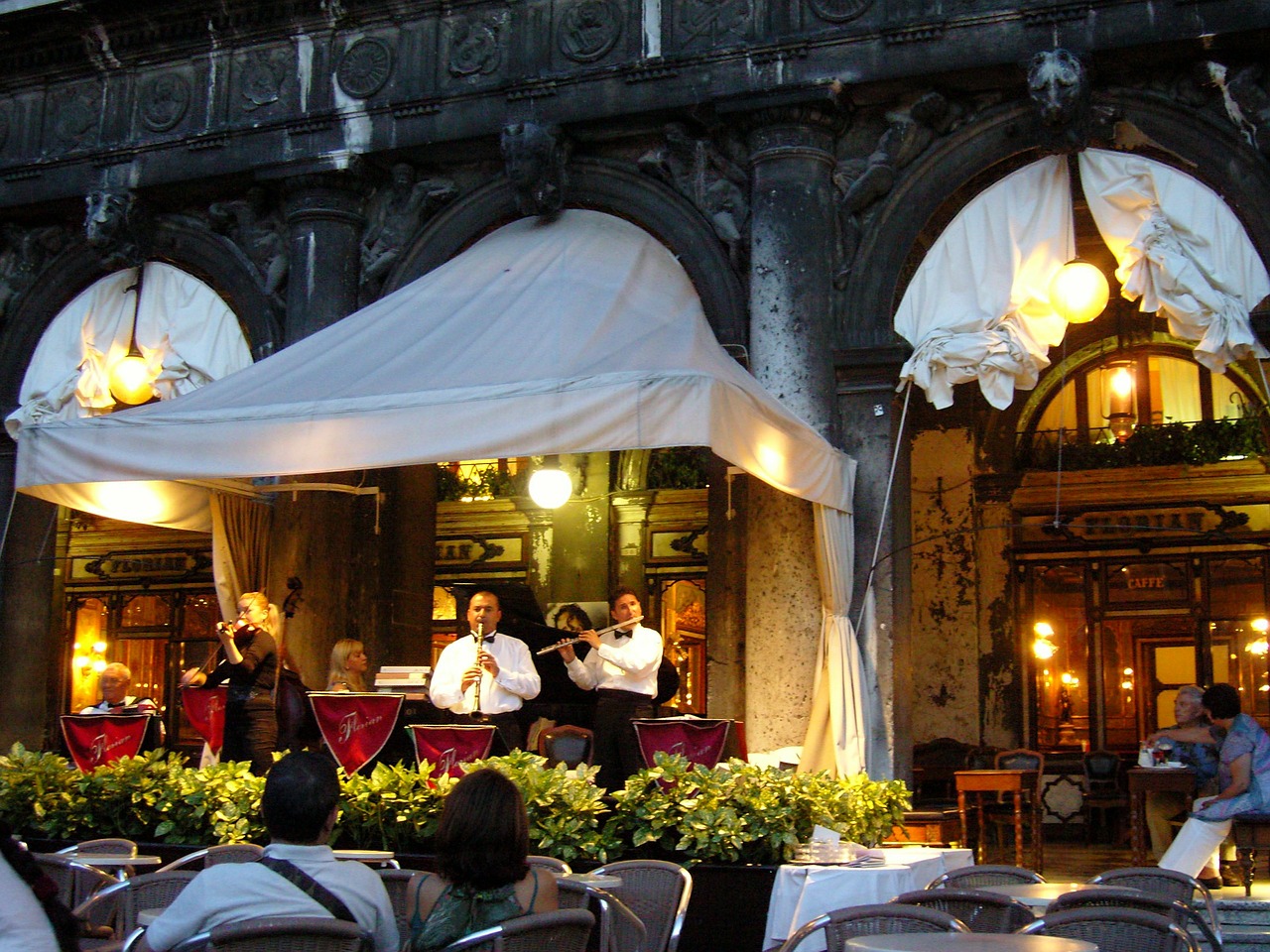 We go up to the Marciano Museum, which is housed above the church proper. The stairs leading to the upper floors are very steep but the effort is worth it. The upper level gives us an up-close view of the mosaics and the Triumphal Quadriga of four horses. There's also an outside balcony with amazing views of the square and surrounding area .
Done with the Piazza San Marco, we amble through the narrow canal streets of Venice. We're not following a map, we're content in blindly walking the maze like alleys to see what we come across. We happily spend our day checking out costume and mask shops, walking through open air markets and eating and drinking incredible food.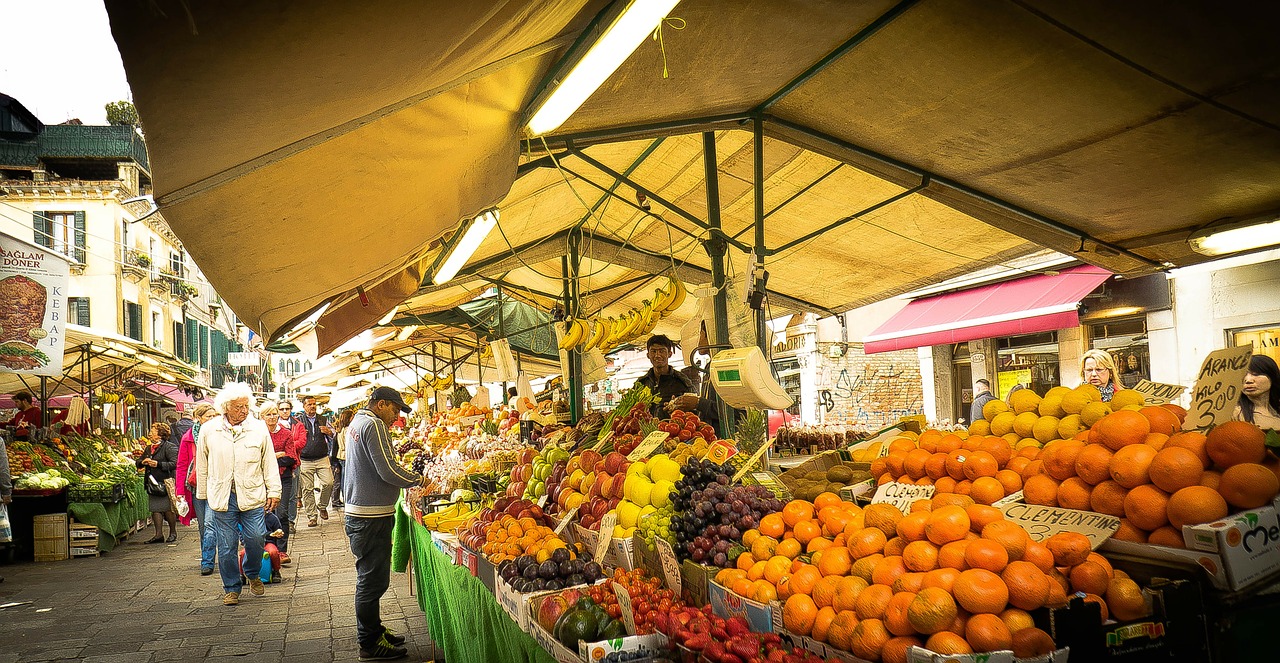 It's in one of the open market areas that the accidental stalking of Guy Fieri occurred.
We're taking a break, sitting on a stoop and enjoying some amazing food from a small shop. Suddenly a small camera crew sat right next to us. We notice that in the middle of this group is a tattooed bleached haired American wearing a basketball jersey and dark shades. My brother's fiance immediately recognizes him and we're excited by the coincidence. I already have a camera in hand and instinctively start taping.
During my travels I've developed an unhealthy habit of filming everything I do, if it's not on tape it never happened.
This has put me in some uncomfortable situations in the past; like on a train in Germany where on one of the stops a crowd of drunk teenagers who were chanting racist and (probably) Nazi slogans came on board. I casually started taping them, one of the teens notices and confronts me about it. Drunk German teens can get very violent very quickly. I delete the clip and, before the situation escalated further, the teen was distracted by someone else and left me alone.
I was very lucky.
Back to Guy, I have my camera and it's squarely pointed at him. I was not being very subtle about it. He glared at me once and I pointed it away, but I persisted (in another life I probably could've been a paparazzi). That's when he stopped talking with his crew and stared squarely at me.
I felt like a five year old who was caught with his hand in the cookie jar. Immediately I start apologizing.
"If you want to take a picture you should ask, I would be more than happy to. But it's creepy when you're just standing there …. " Guy says.  I was not sure if I should tell him that I was actually taping a video, so I didn't and I pretended to take a picture as he posed for me.
I felt bad about the unintended intrusion, but Guy handled the situation very nicely. Chastised we move on enjoying the rest our day walking the canals.
The next day we continue our walking tour of the city. My brother and his finance decide to try a gondola ride. Being the third wheel I wait 30 minutes for them while their ride completes. They seemed to enjoy it. As we explore the city we're pleasantly surprised to find a lot of unique and interesting galleries to visit. The exhibits hosted experimental artwork that covered different mediums including: paintings, statues, photography, audiovisual and moving art installations.
One of the galleries had a disturbing display that involved a large number of naked barbie dolls hanging from a tree. God only knows what the artist was to trying to say with that piece.
Maybe his mother didn't love him enough?
The day just flew by, that evening we decided to go out for a fancy dinner. We got dressed and on the way to the restaurant it started raining very lightly.
It made a romantic setting even more romantic and I felt like a third wheel again.
We went to a restaurant called "Ostaria De Rioba". It's a small beautiful restaurant near our apartment. We had the most incredible meal that was capped off by the best tiramisu any of us ever had. It was the perfect end to the perfect stay in Venice.
Here is the video from our trip. Jump to 2:15 for the accidental stalking moment.