A Guide To The Hauraki Gulf Islands
The Hauraki Gulf, which lies between Auckland and the Coromandel Peninsula, is filled with islands that are easily accessible from Auckland and make for excellent day trips. The most popular islands in the gulf include: Waiheke, Rangitoto, Rotoroa and Tiritiri Matangi. Each of the these islands has its own personality and offers it's visitors a unique experience. They have beautiful beaches, adventure excursions, walking trails, lots of scenic views and much more. Below is a quick guides to main islands of interest in this region.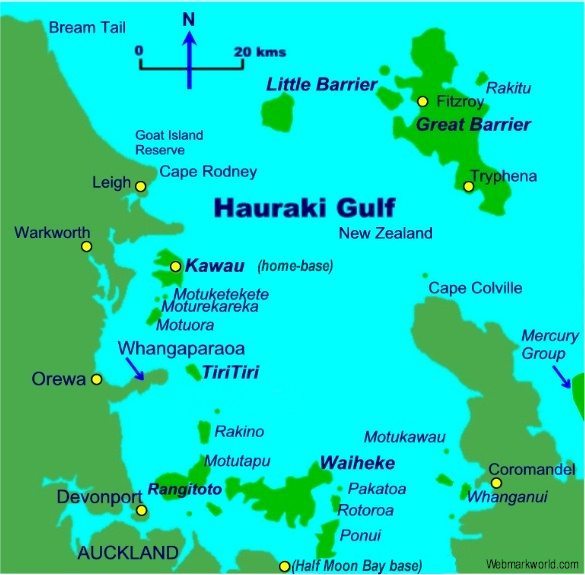 Waiheke Island
This is the largest and most popular islands in the Gulf , with good reason. Waiheke boasts a wide selection of wineries serving award winning wines, beautiful beaches (the most beautiful being  Onera and Onetangi), a well established art community (there are over 100 artists who have based themselves in this island) and plenty of adventure activities including ziplining, kayaking, sailing and more.
Most people visit this island as part of a day trip, but you could easily book a bach (holiday house) and extend your stay to soak in all the goodness this island has on offer. In fact Lonely Planet has recognized Waiheke  as one of the best destinations to visit in 2016.
Transportation: It is a 40 minute ferry ride from Auckland. Round Trip Ferry ticket costs $36. For latest ferry information visit Fullers Ferry.
Rangitoto Island & Motutapu
Rangitoto Island has a unique landscape that's covered with rugged lava crops, lush native bush and sandy beaches. Hike up to the summit of a dormant 600 year old volcano (which is the youngest and largest volcano in the Auckland volcano field) for breathtaking views of the surrounding area. The hike up to the summit of the volcano should take about an hour.
Attached to Ragnitoto, by a causeway built during WWII, is Motutapu Island. Motutapu is primarily a pastoral land and is strikingly different from its neighbor island.  It's a favorite hiker's destination. For more information on the hiking trails on this island, see this link for short walking trails and this link for long walking trails.
Transportation: It is a 25 minute ferry ride from Auckland. Round Trip Ferry ticket costs $30. For latest ferry information visit Fullers Ferry.
Tiritiri Matangi Island
Further out in the gulf is Tiritiri Island, which is a famous wildlife sanctuary. This island is primarily a sanctuary for New Zealand's native birds and is a bird lovers dream. You can join a guided tour to spot island's birdlife, which surprisingly includes blue penguins. Sadly you'll probably won't see them, the blue pengiuns spend their days out in sea and only return to the island at night. To learn more about the birds of this island check out the following link.
You can explore the island through one of its walking trails. Make sure that you walk the 1 hour Kawaura track, it'll take you through a coastal forest and Pohutukawa trees, which are thought to be 800 to 1,000 years old . For detailed information on the island's walking trails check out the following link.
If you're looking to relax then you head off to Hobbs beach, which is only a 10 minute walk from the warf and right next to the Kawaura track, where you can swim or picnic.
Transportation: It is a 75 minute ferry ride from Auckland. Round Trip Ferry ticket costs $70. For latest ferry information visit Fullers Ferry.
Rotoroa Island
Rotoroa is Hauraki Gulf's newest wildlife sanctuary and is home to some of New Zealand's most endangered species. It's a great little island that offers four sandy beaches, several walking trails, scenic views and lots of opportunity to do wildlife spotting. If you visit Rotoroa make sure to walk to the island's cemetery for incredible views of Ponui Island and the Hauraki Gulf.
Transportation: It is a 75 minute ferry ride from Auckland. Round Trip Ferry ticket costs $52. For latest ferry information visit Fullers Ferry.
Kawau Island
Even though Kawau is less accessible from Auckland, it's worth the effort to visit. It's the one of the largest islands in the Hauraki Gulf. Kawau has a small population and offers a quiet retreat. The island has sheltered bays with crystal clear waters and enough activities to keep you occupied.
Visit the Governer's historic mansion house and then checkout the tropical gardens behind the mansion. Keep an eye out for wekas, wallabies and peacocks. Stretch your legs by doing some of the walking trails in the island, specifically either the "Miners Track" that starts from the wharf or the "Redwoods Track". Charter a boat or take a cruise that will take you across the islands sheltered bays and if you're lucky you may spot some dolphins along the way.
Transportation: This island is not directly accessible from Auckland. You need to drive to Sandspit (near Warkworth) which is a one hour drive from Auckland. Checkout the following link for ferry and boat information.
Great Barrier Island
This is the Gulf's largest and most remote island (from Auckland). The Great Barrier Island is a nature lovers wonderland, it has many walking trails (some of which are multi day treks), incredible untouched natural beauty, diverse wildlife, beaches and lots of water activities like kayaking, diving and surfing.
The island's national park (called Aotea) stretches over 12,109 hectares or 43% of the island and is home to some of New Zealand's most unique and rare species. To get full details on all the activities this island holds check out the following link.
 Transportation: Check out the following link for transportation details to Great Barrier Island.
Please Note The Following:
Most of the islands (with the exception of Waiheke and Kawau) will not have food or water on sale. Make sure you bring enough water and food for your day trip.
Make sure to bring sunscreen, a hat and a torch (if you want to explore lava tunnels and caves in Rangitoto).
Most beaches are not patrolled.
Note that the Great Barrier Island has NO ATM machines and most operators only take cash.