Most people know Siem Reap as the gateway to the amazing Angkor Temples. Monuments that, in my mind, tower over all the World Wonders. With the influx of tourists doing their pilgrimage to these temples, Siem Reap has grown into a cool hip town; offering plenty of interesting markets and an impressive night life.
Below is my 2 day guide to Siem Reap. During the day, most of your time will be spent exploring the temples, while in the evening you'll cover Siem Reap.
---
Prior to starting your tour there are a couple of things we need to go over:
Cambodia's weather is challenging. It gets hot, humid and standing under the sun all day will be hard on your body. Make sure you keep yourself hydrated and wear light (modest) clothing.
Hire a tuk tuk for a tour of the Angkor temples. Prices generally range from $15 – $20 a day (depending on your negotiating skills). Price will also vary based on the type of tour your choose. Generally most tuk tuks offer two types of tours.

Small Loop: Angkor Wat, Bayon , Ta Prohm + 4 other temples.
Big Loop: Angkor Wat, Bayon Temple, Ta Prohm  + 10 other temples.
When we did our tour of the temples we agreed with our driver that we'd break it up into two sections. We did a morning tour (8am – 12pm). We returned back to the hotel to cool off, shower and relax. Then we did an afternoon tour (1:30pm – 4pm). While we could've done the tour as one stretch, we would've been miserable. I can't stress enough how hot it gets in Cambodia. We paid extra, but it was money well spent.
Admission tickets to Angkor Temples cost:

$20 for 1 Day Pass
$40 for 2 Day Pass
$60 for 7 Day Pass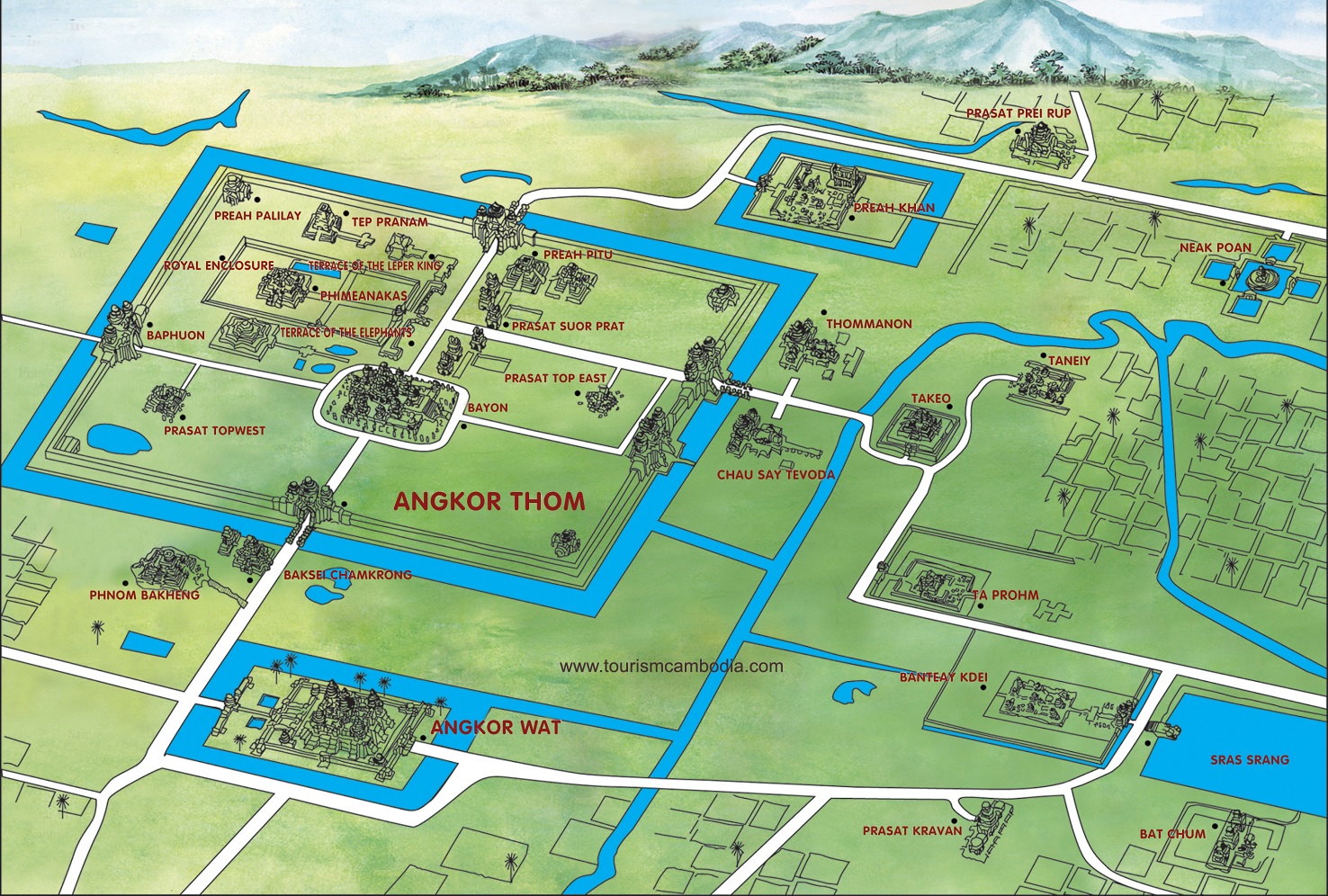 Day One
Morning & Afternoon: Angkor Wat and Angkor Thom
Your first day should focus on the big temples, Angkor Wat and Angkor Thom. Trust me that's a lot of ground to cover in one day.
Angkor Wat is the grand daddy of all the temples in Angkor. There are no superlatives that really do it justice. Just know that when you get your first glimpse of this temple your heart will race with wonder and amazement, knowing it was built by hand by an ancient civilization.
The best time to view the temple is in the morning. With sun rising over the spires of Angkor Wat, the view is simply magical. Be warned, it will be packed with tourists and amateur photographers trying their best to capture that moment on film.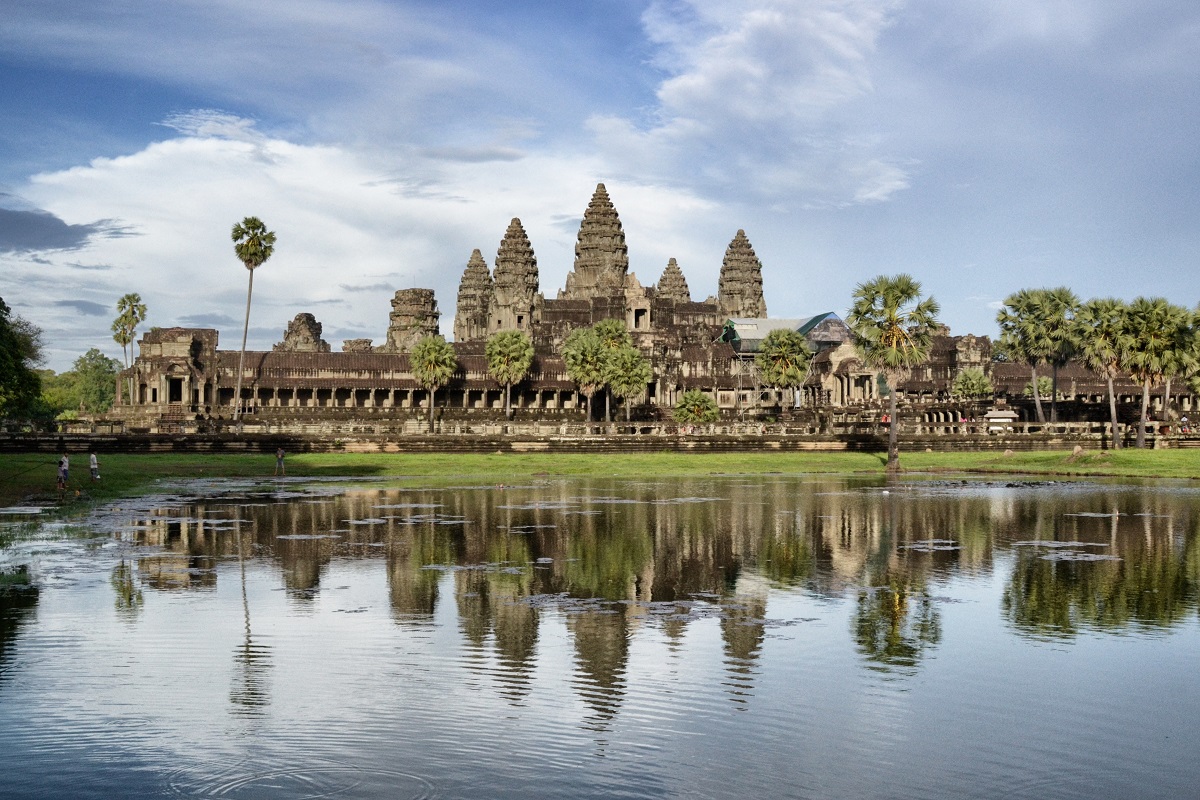 Angkor Wat is believed to be the largest religious building in the world. The temple is over 200 feet high and the central part has four towers that are in the shape of a lotus flower.
According to Eleanor Mannikka, the dimensions of Angkor Wat map to the four ages of classical Hindu thought. Walking from its outer causeway through the main entrance and courtyards to its highest tower is a symbolic journey to the beginning of the universe.
One of the highlights of this temple is climbing its highest tower. This is a very popular attraction and the lines to enter the spire are long. They also have a strict rule that shoulders and knees are to be covered. The views from the tower are stunning.  The climb down from the spire is tough, the steps are steep and looking down may give you vertigo.
Angkor Thom
Your next stop will be Angkor Thom. This ancient city is surrounded by a protective wall that's five miles in circumference. To enter Angkor Thom you pass a causeway that's flanked by rows of menacing statues that represent ancient divinities and Gods.
This is a massive complex of temples, and Bayon Temple is the brightest jewel in Angkor Thom's crown. Bayon is one of the strangest temples in Angkor, holding 216 carved faces that seem to follow you wherever you go.
Beyond Bayon, there are 10 other temples to visit in Angkor Thom.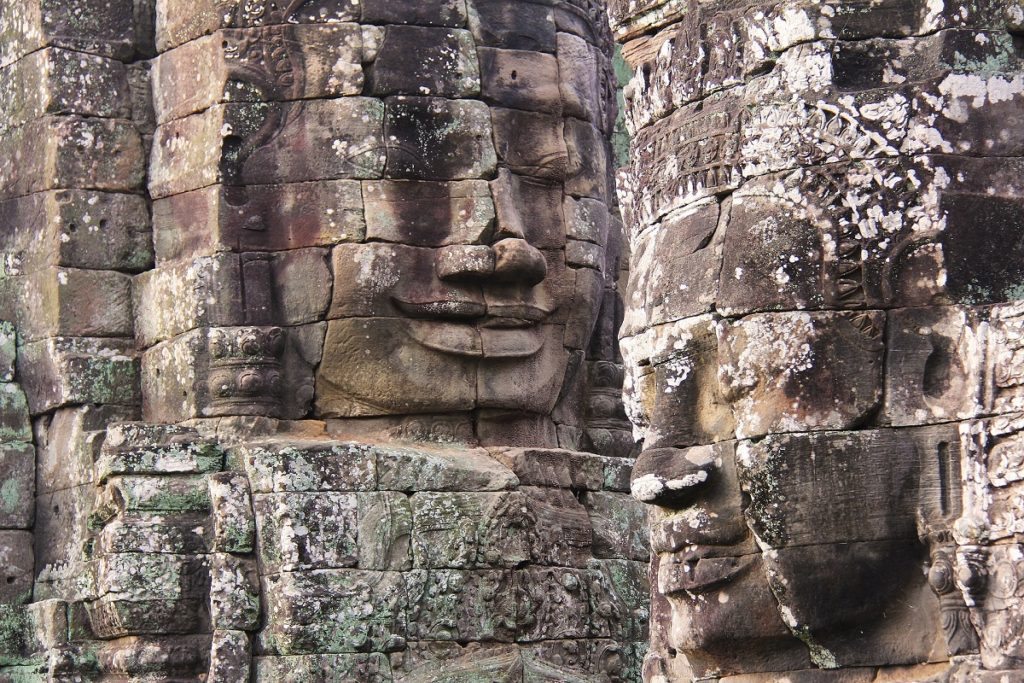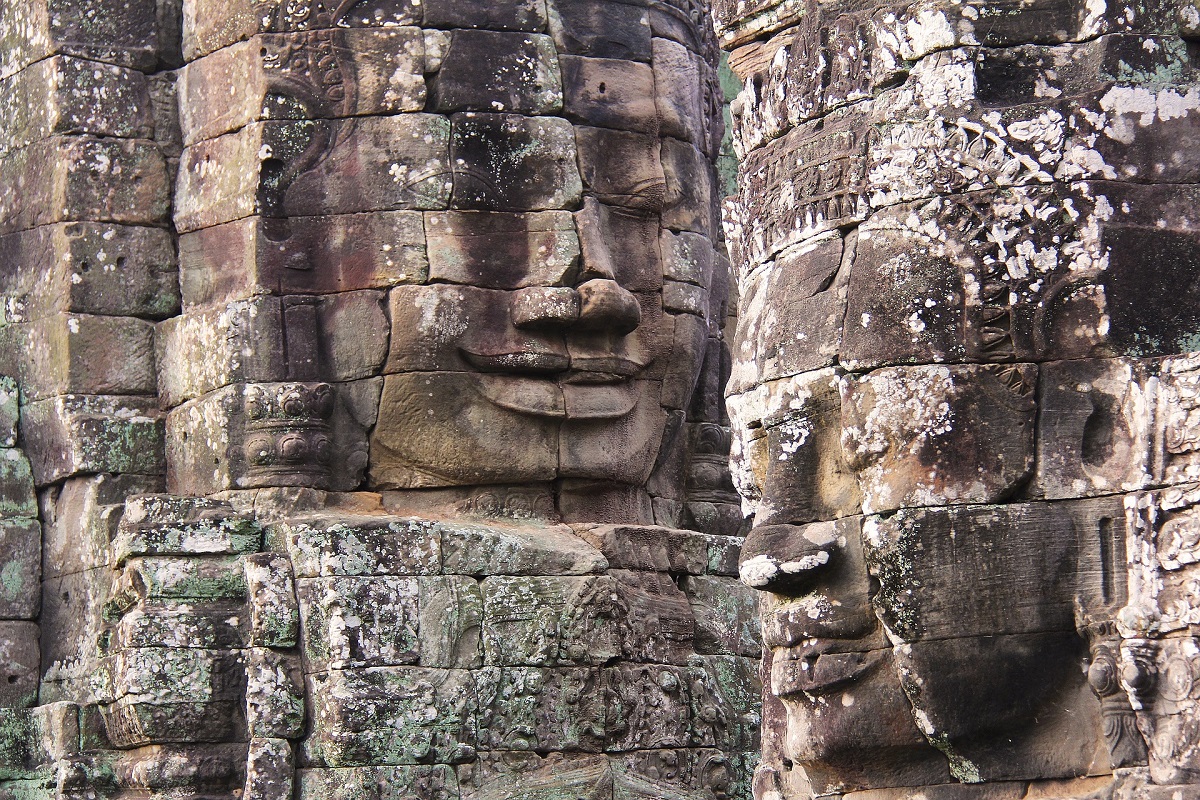 Evening
After a long day touring the temple grounds, it's time to hit the town.  The great thing about Siem Reap is it's small, so getting around by foot is easy.
The heart of the city is Pub Street. This is a slightly garish neon lined street that (as its name suggests) is lined with bars and clubs. The side alleys are filled with vendors selling everything from food and drinks, to booze from neon trimmed carts to vendors offering local delicacies which include fried spiders. It goes with out saying, a road like this is a magnet for backpackers looking for a good time.
If you're interested in getting some shopping done, then head over to the Night Market. Here you'll find knickknacks, Cambodian folk art and jewelry.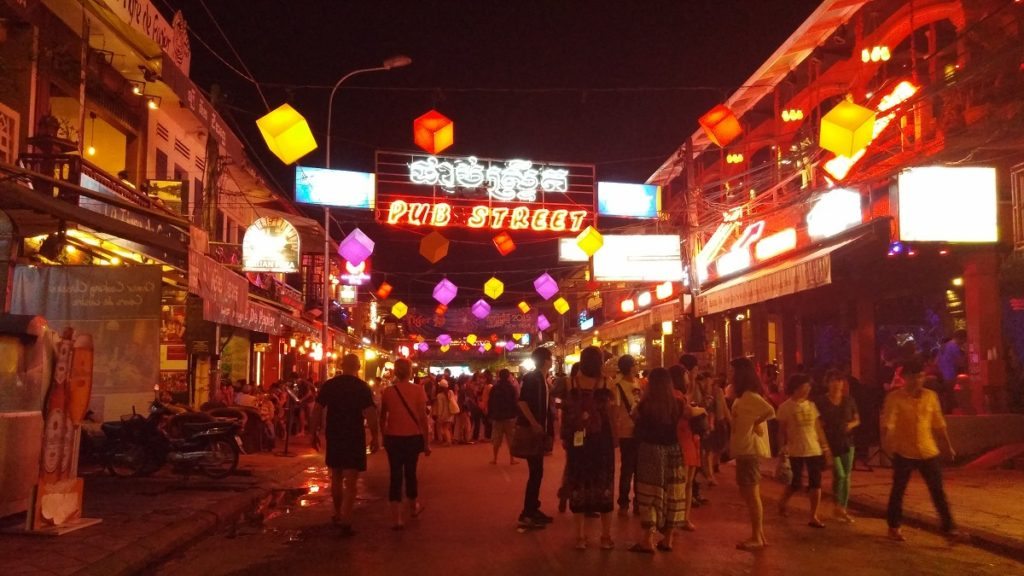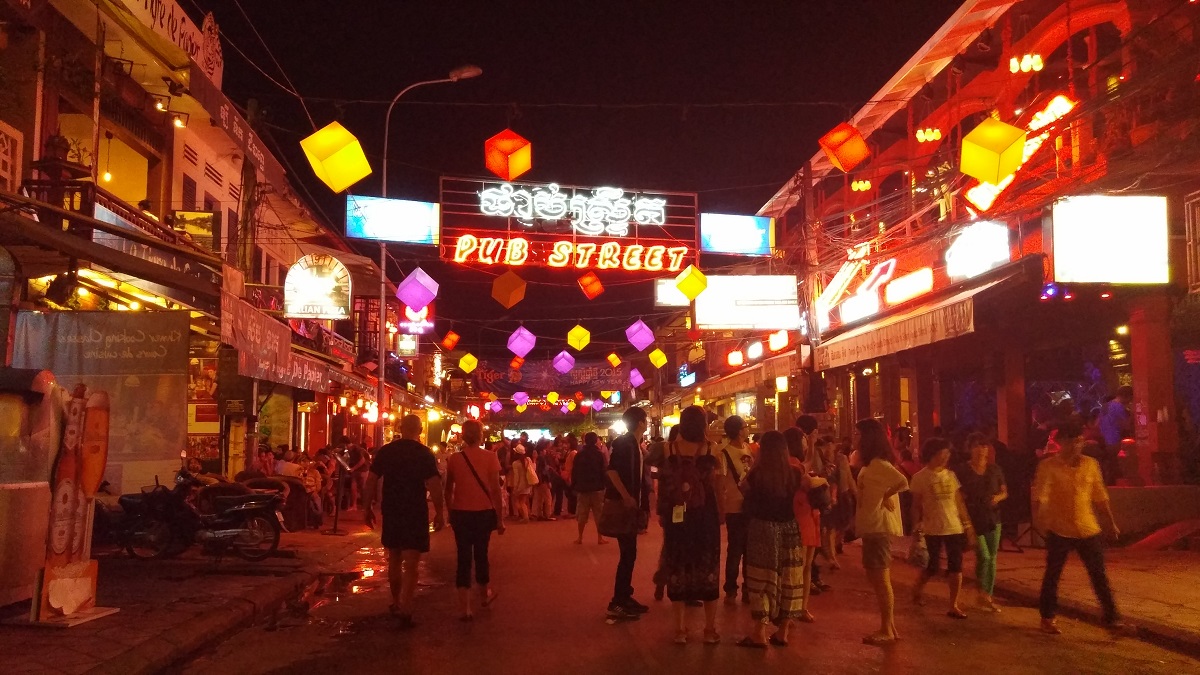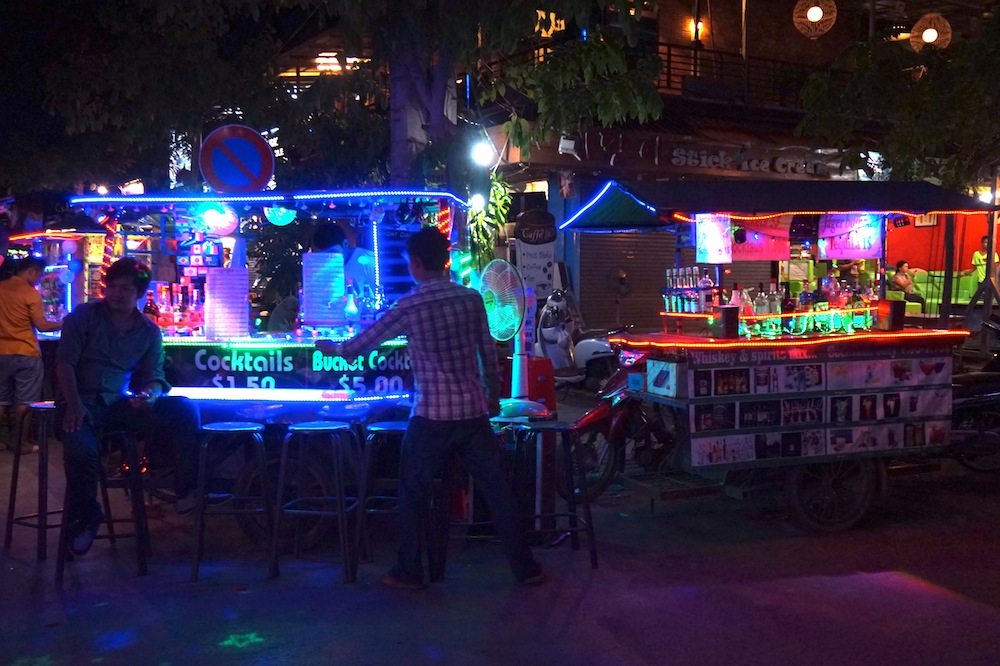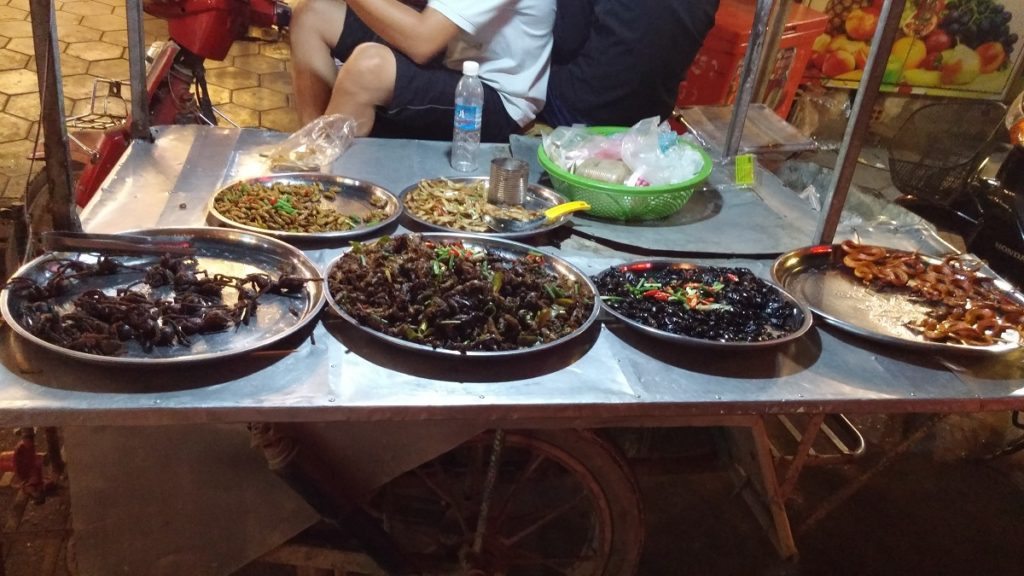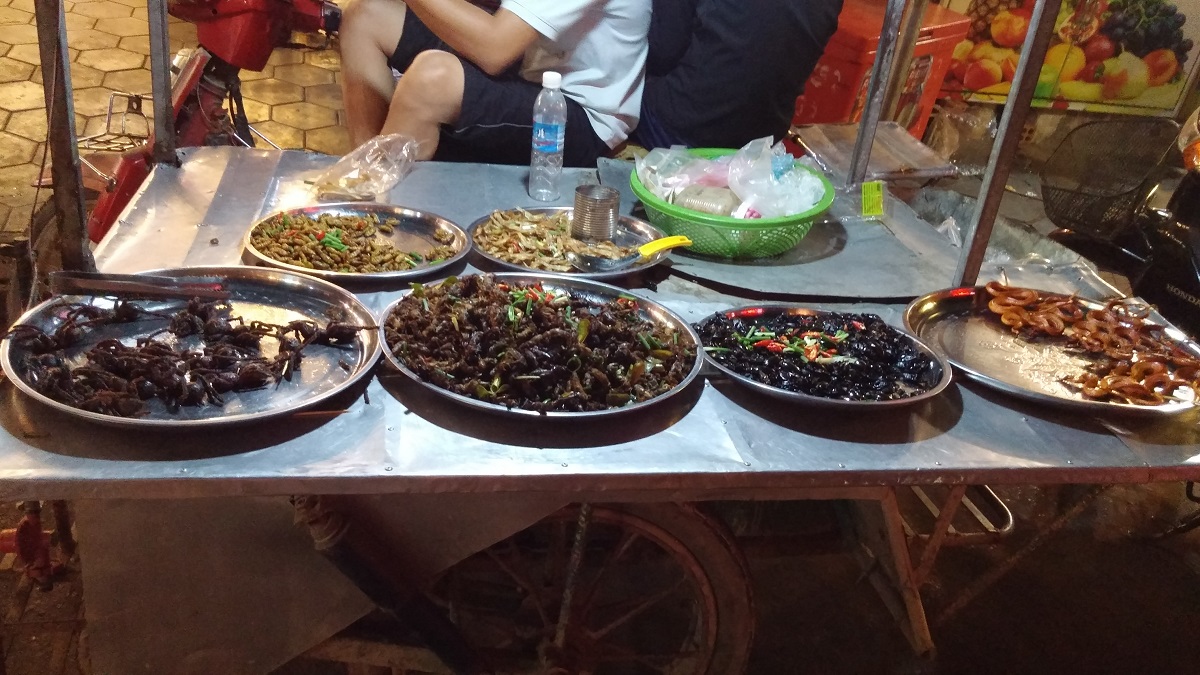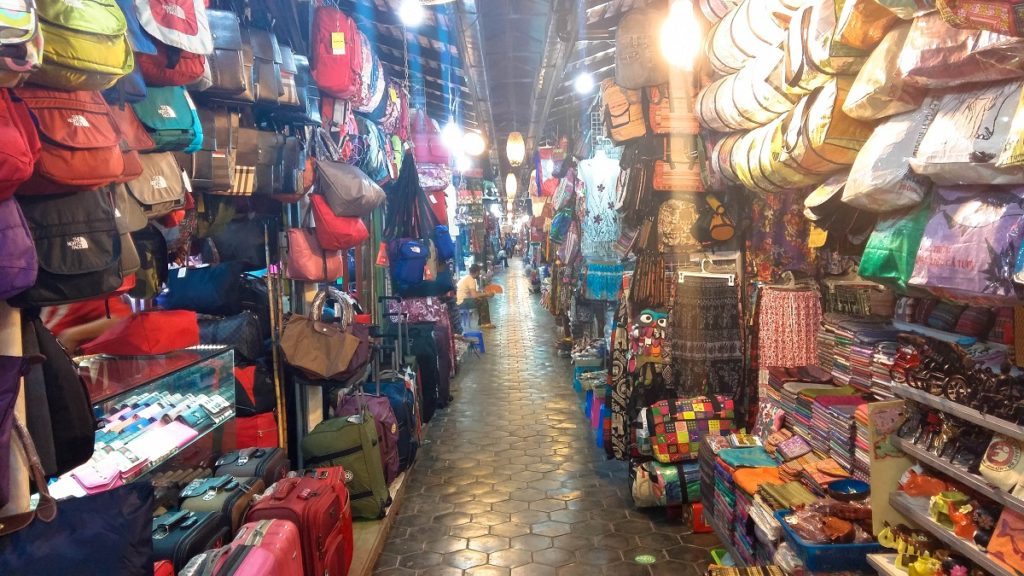 Day 2
Morning: Ta Prohm And The Smaller Temples
Today we'll spend only half a day exploring the smaller temples. With the exception of Ta Prohm, these smaller temples are less trafficked so it should be a more personal and less hectic experience. Highlights from this tour will include:
Ta Prohm: Made famous in the movie "Tomb Raider", it's been overrun by the jungle's trees which have fused with the buildings. Making for an eerily beautiful scene.
Neak Pean: The entrance to this temple is stunning. This temple is designed as an artificial island. You'll cross a wooden pathway and the water that surrounds it shimmers like a mirror.
Preah Khan:  A beautiful small temple close to Angkor Thom with lovely carvings which are in good condition.
Ta Keo: The best part of this temple is the view from the top. The stairs are very steep and large, so I wouldn't recommend it for anyone with knee problems.
Banteay Kdai: This is modest and small temple. If you're not experiencing temple fatigue then it's good for a quick visit.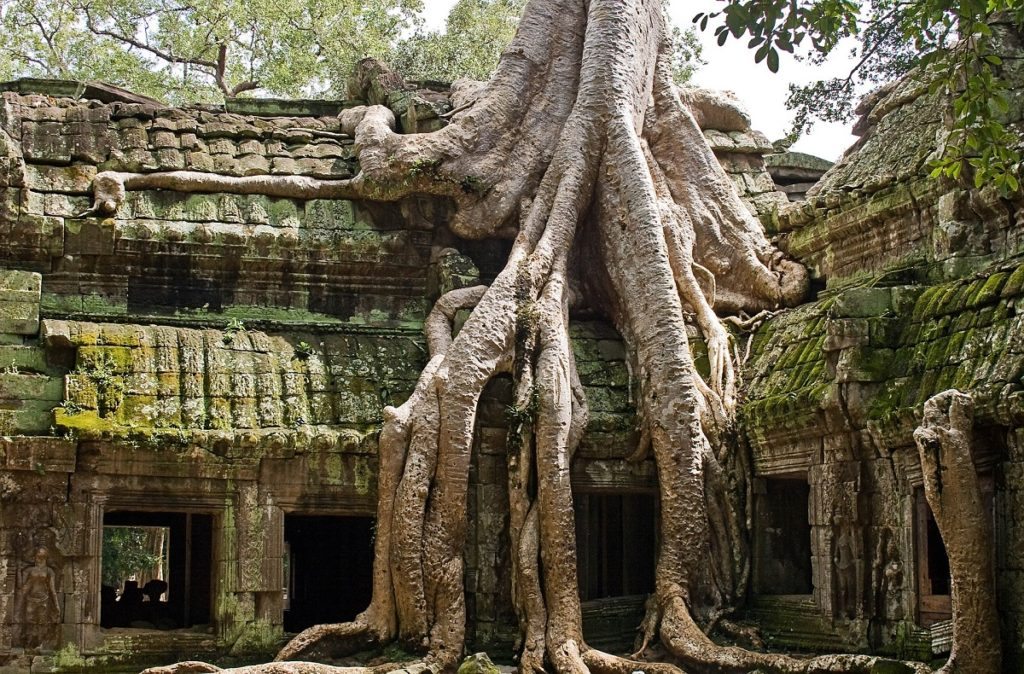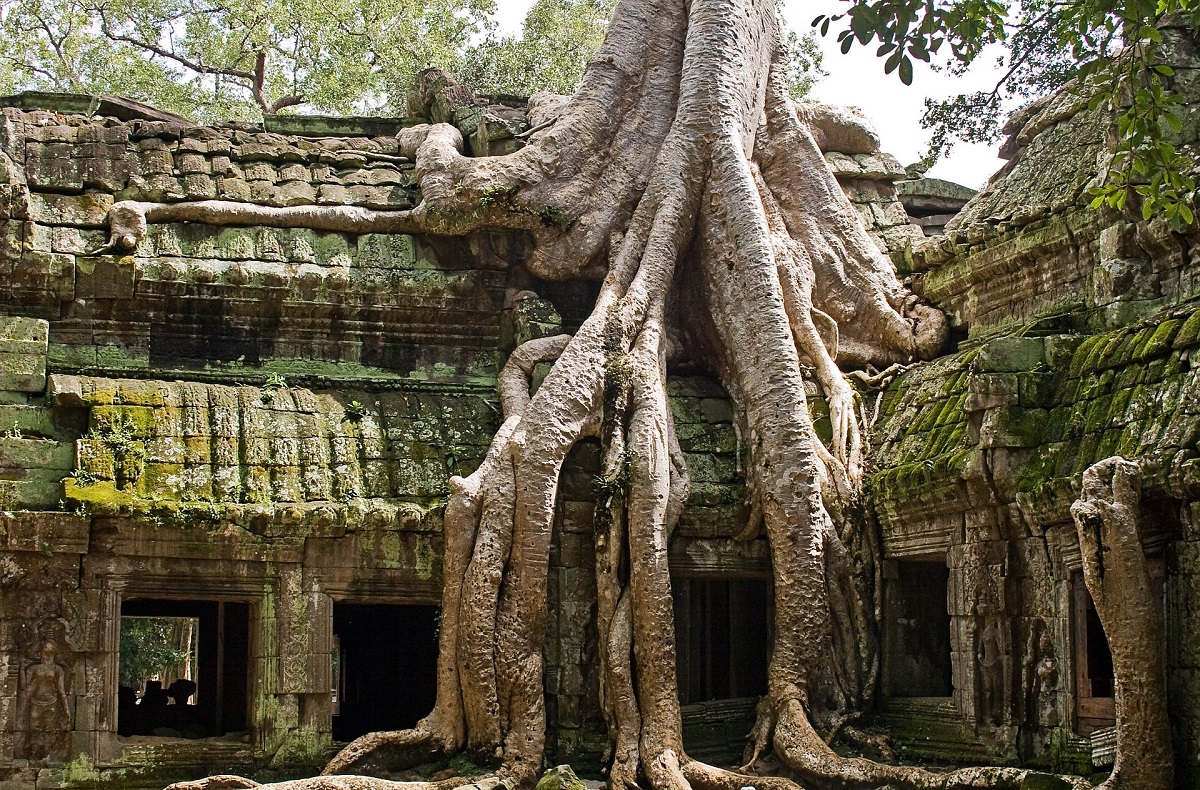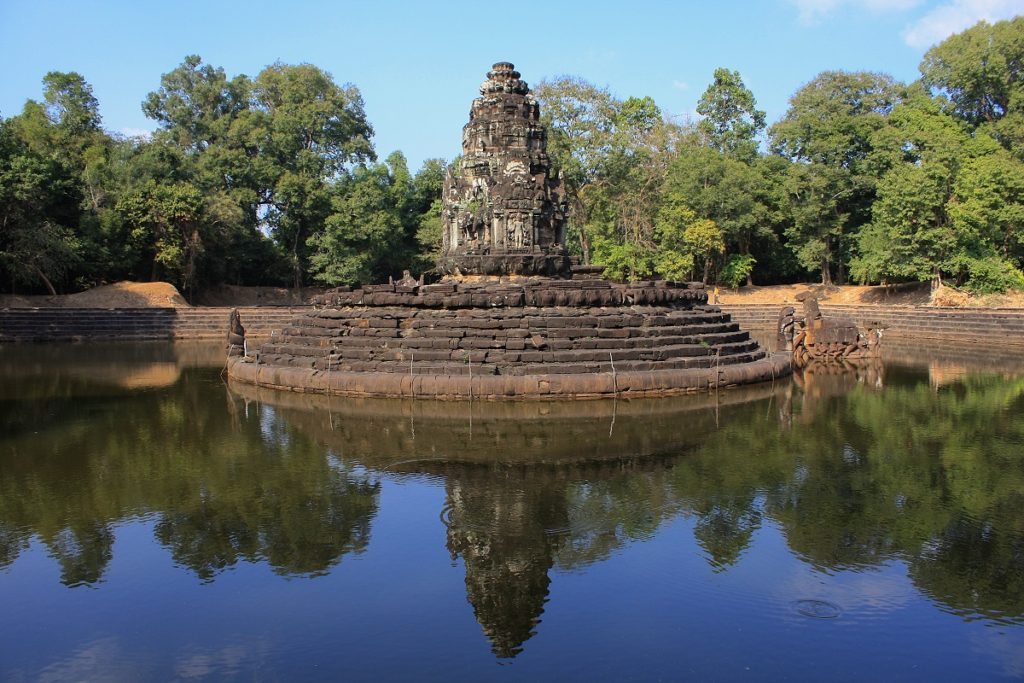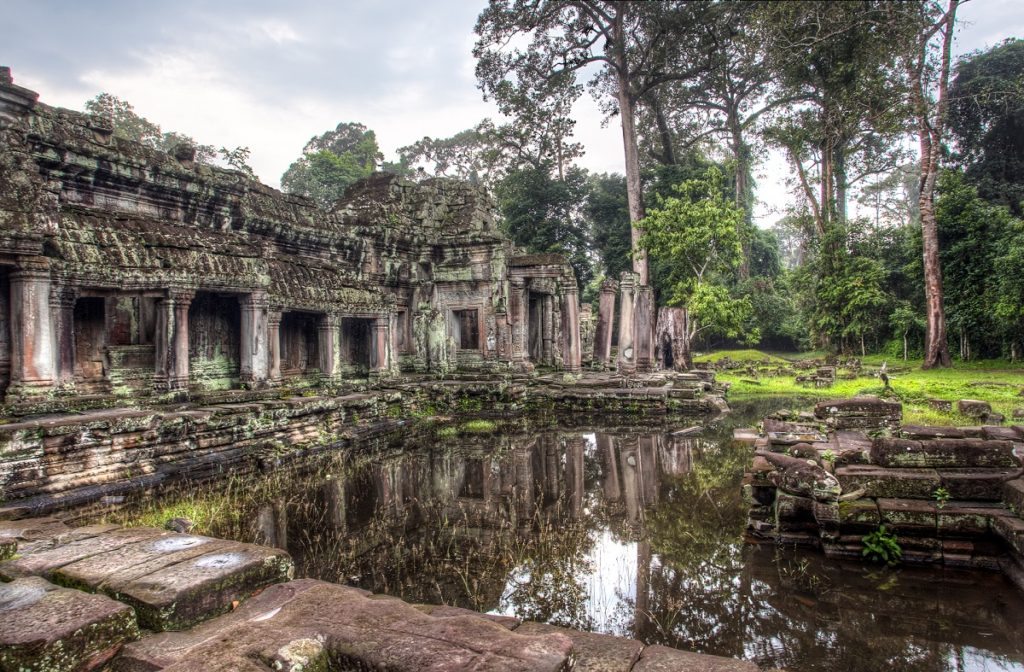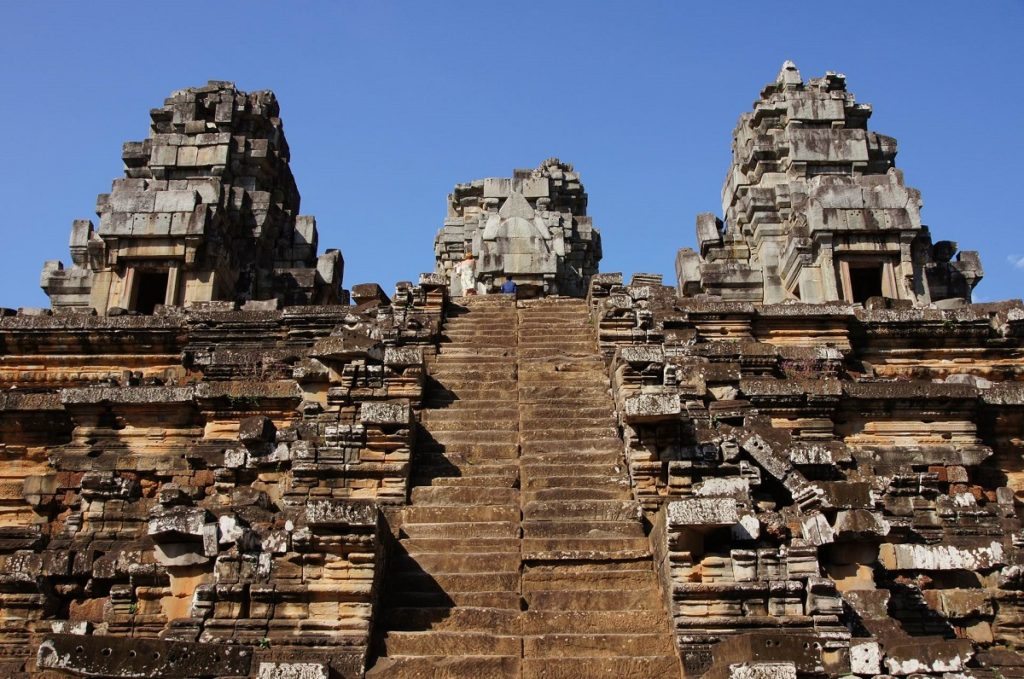 Afternoon: Cycling Around Siem Reap
After a great day at the temples, head back to your hotel and grab a quick meal. The next part of your day will involve biking around Siem Reap. This streets here are flat, which makes for an easy bike ride. Just watch out for the traffic, it can be a killer.
Most hotels and guesthouses will normally have bikes available for rent for a nominal fee. In the rare case that yours doesn't, there are plenty of places around town to rent from (such as "The White Bicycles").
A great place to ride your bike is near the Siem Reap River. Along the way you'll come across a number of cafes you can stop at for a relaxed break. Places you should bike to include:
Wat Preah Prohm Roth – A traditional Buddhist temple in the heart of Siem Reap.
Angkor National Museum – This museum is dedicated to Angkorian artifacts.
Artisan Market: This place is all about local crafts made by local people. You'll have the opportunity to see artisans making the products that you can then buy at the onsite gift shop.
Old Market – This market has a wide selection of vendors selling clothing, spices, housewares, jewelry and food. I strongly recommend you visit the food market during the day, it's an interesting experience. But not for the faint of heart. Here vendors sell live fish (squirming in buckets), freshly cut bacon and pork (the heads of pigs are put on display) and other unique local delicacies.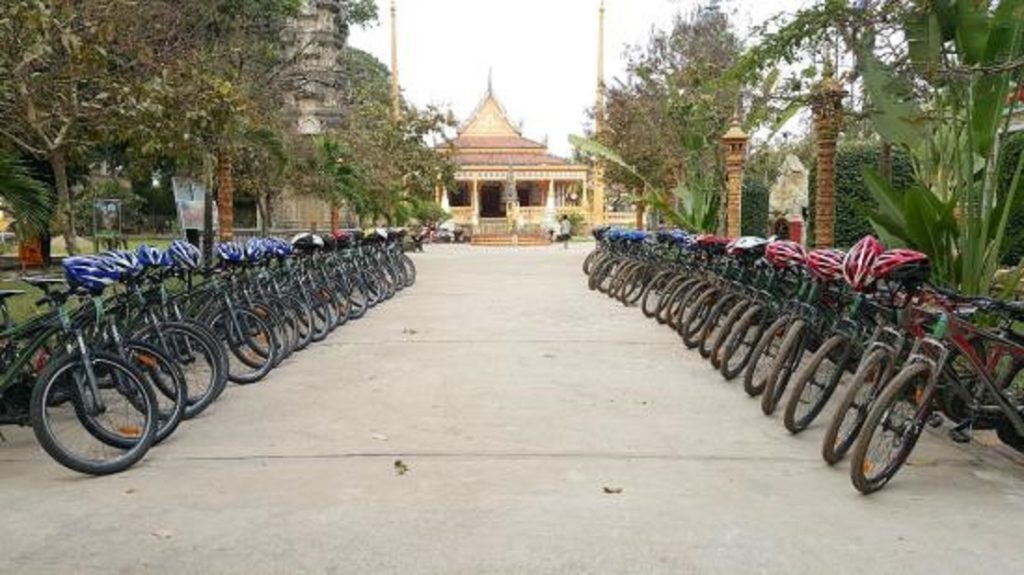 Evening
The perfect way to end your visit to Siem Reap is by going to a hotel offering dinner and a traditional Aspara dance show. Several restaurants and hotels in Siem Reap offer these dinner shows at different price points. A good choice is the one held at Raffles Grand Hotel D'Angkor in the French Quarter. The performances are held in their garden surrounded by traditional Cambodian boundary stones. The dinner is a top notch buffet.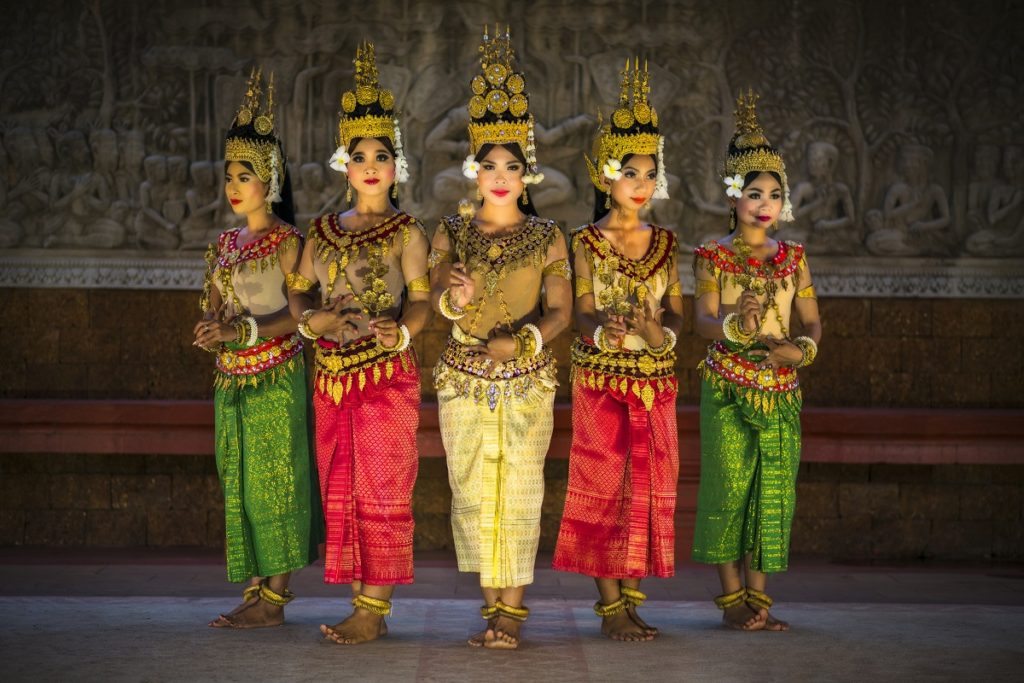 Related Videos